You Can Now Find Lost Keys And Phones
Are you always misplacing your keys and phone? Don't worry. You are not alone. In today s fast paced society sitting something down absentmindedly and then forgetting where you left it can be very frustrating especially when you need it to tend to something important. Well I've got good news for you. I know there are products already out there on the market that can locate an item with an alarm of some sort with a simple whistle or clap from their owner but, the item I've imaged below is a cut above. Just to give you an example, what if you can't whistle or clap? That's not a condemnation. It just is what it is for whatever reason. The Keysmart Pro below eliminates that need because when you have either the touch screen activator or your keys; they all interact with each other wirelessly and can alert you to the location of the other. If you have your Keys, this item activates the alarm on your lost phone even if it is in Silent Mode.
PROS
1. Separate Tile push button device if you have lost both your keys and your phone.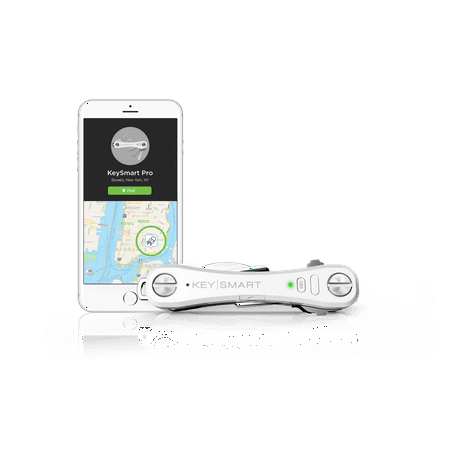 2. Keys organized and no longer stab your legs when sitting down.
3. GPS Tracker if you're concerned the items have been stolen or
(need to locate your Teenager!).
4. Bright LED light in case you are searching in the dark.
Cons
1. Battery dies quickly in Tile device. Needs to be recharged every one or two months.
2. Attaching Keys to Key Holder has been a bit challenging for some. But, after attached, well worth the patience.
Summary
After weighing the Pros and Cons of my research, I'll still give the Keysmart Pro a 'Thumbs Up.' In my opinion, the benefits of having this device far outweigh the Cons because first, I have devices that need to be charged daily. Therefore, one or two months for a needed recharge is a great deal longer than most rechargeable devices. As for  the challenge in attaching the Keys, I'd just get my 21 year old Niece with her skinny fingers to do it. In other words, just get your Kids to do it.  LOL! Now that we have gotten the first part of my Blog completed, I don't know of any rule that says you cannot look for your Keys and make money at the same time.  Warren Buffet said, "If you don't find a way to make money while you sleep, you will work until you die." Why not have a little fun and check out my next section below.
Road To Financial Freedom
Would you like to make money Blogging? I knew NOTHING when I started learning how to do this other
than how to type. Here is the link to my Host Site that will teach you from start to finish. All you have to do is follow the step by step Lessons and you could be on your way to Financial Freedom just like me. WEALTHY AFFILIATE
Writing a Blog Is Easy – Important Things To Remember
Writing a Blog is easy because all you have to do is write about what is important to you. There are more than 4 Billion People on line and there are bound to be people out there with the same interest as you. Those people are actually looking for someone like you and are known as your 'Target Audience.' If you are a Chef or even just like to cook, you can write about cooking. If you like to sew, you can write about sewing. If you drive a Fork Lift, if you work in Fast Food, if you have a big family and raising 9 kids, you can Blog about the 'Life Hacks' you used to raise 9 children.
You do not need Technical Skills or be knowledgeable about running a Business to do this. You don't even have to be a skilled writer. That is when that 'ABC' Spellcheck button you click on comes in handy before you Post any article. One of the main keys to success is to choose a subject you already know a great deal about because it's fun for you. Do you know a great deal about sports like Swimming, Basketball, Football, Running, Tennis, or Biking? If you do then there are people out there looking for you.
Building any business takes time, patience, and determination. Doing this is not going to make you rich overnight. But, if you can stick with it long enough, you can be on your way to financial freedom depending on how much time you are willing to put into it. For example, I work on my website every evening and on the weekends. How much time are you willing to put in to gain Financial Freedom?
Many online Training Programs want to charge you thousands of dollars up front before they have proven their worth or earned your trust. Wealthy Affiliate is FREE for your first month just for you to see if you think it may be a good fit for you. If you do, it's only 49.00 a month afterwards and less if you purchase a year's subscription. How would you like to be making an extra 1,000, a month? How about 2,000 or 3,000? There are WA Members doing this and more right now and it can be done within a year's time with the proper Training at Wealthy Affiliate. Did you know that once your website is making Residual Income, there are companies looking to buy it from you? One WA Member just sold her website for 40,000 Dollars. But, why would she do that you may ask? It's because the Wealthy Affiliate Program gives you 50 FREE websites with your year's subscription so she has 49 websites left to build up again and sell! WE ARE ONE BIG HAPPY FAMILY WHILE WE MAKE MONEY OVER AT WEALTHY AFFILIATE. Come join the fun!

Vision
Since this is a sight about Dream and Vision Interpretation, below you will find the following Vision that may help you with Interpreting your own experiences.
5/6/11
Vision/Remote Viewing
I have come to the realization today that I have been Remote Viewing 

for quite some time. Today during my Meditation I first had 2
Visions. First I saw my hand holding a pencil. This tells me that I
am to write down what I see for further analysis. The second was of
an adult male Deer with full antlers. This means that my innocence
is being protected due to the light flowing through me during
meditation. The last Vision was of something black being dragged out
of my abdominal area by 2 Angels. Each Angel had an arm of this
thing. Well that's pretty self-explanatory don't you think.
Whatever or whoever it was, I'm certainly glad it's gone.
That's one reason I love meditation so much. You just never know
what has attached itself to you as you go innocently about your day. 

You can't see it but you can feel that something is wrong and
different about your Being. But, the Angels can see it and they can
drag if out during meditation if you ask for a healing.